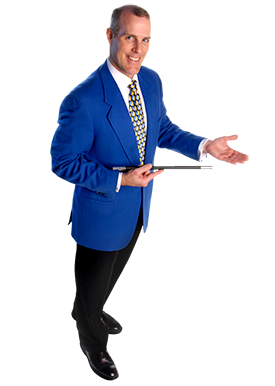 The Stage Show

Slicer's sophisticated wizardry and wit combine to create an audience-pleasing show that's ideal for after-dinner entertainment. Imagine the scene: The servers have cleared the dessert plates, the lights dim, and a hush falls over the guests. Suddenly, a lively big band tune heralds the start of the show. The stage lights fade up, Slicer bursts onto the stage, and the fun begins. The show is highly interactive, engaging several audience members – always with the utmost respect. By the end of the show, the audience is overflowing with laughter, energy, and astonishment. The show length is flexible and can run from a short 20 minutes up to 50-60 minutes.
---
Close-up Magic

Your reception, hospitality suite, or private house party will be elevated to a new level of fun when Slicer astonishes your guests within inches of their disbelieving eyes. His close-up wizardry injects a fresh jolt of energy and fun into any event where your guests are socializing throughout a room. During your event, Slicer mingles with the guests, engaging one small group at a time with his captivating sleight-of-hand, gambling demonstrations, and mind reading. You'll hear gasps of amazement and witness moments of stunned silence as he gently pulls your guests into a world where it seems that anything is possible.
---
Trade Show Marketing

Trade shows can be a very cost effective marketing tool. Indeed, hundreds of potential customers might be roaming the trade show floor, but this doesn't guarantee they will stop at your exhibit. You need something, or better yet, someone, to draw them in. Before the event, Slicer prepares a custom script around your product's benefits and applications. At the trade show, Slicer's high energy showmanship and astonishing magic not only attract crowd after crowd, but more importantly, highlight your products and services, sparking interest in the minds of your potential new customers.